In financial planning and investment management, process is far more important than product. There are no good rules of thumb when it comes to managing wealth. Every individual has various traits, family situations, educational and work experience and goals which, when taken as a whole, make each of us unique. There is no formula for good personal financial planning. Each plan is truly unique.
The latest Trust Update includes an article addressing some of the issues to be addressed in each unique personal plan. Read WHEN GOOD FORTUNE COMES YOUR WAY, to get some sense of the topics involved in the process of developing your plan. For more detail and assistance with your personal plan contact Michael S. Smith, J.D., C.T.F.A. and Senior Vice President & Trust Officer or any of the officers at The Trust Company of Kansas.
What We Are Watching So You Don't Have To
On The One Hand
Orders for durable goods increased 1.8% month-over-month with transportation equipment orders up 6.0%.
The second estimate for Q4 GDP was unchanged at an annual rate of 1.9% in Q4. The GDP Deflator was revised to 2.0% from 2.1%.
Chicago PMI increased to 57.4 in February, up from 50.3 in January.
The Conference Board's Consumer Confidence Index increased to 114.8 in February from 111.6 in January. This was the highest level for the index since July 2001.
Personal income was up 0.4%, in line with expectations. Personal spending was up 0.2% but under expectations. The PCE Price Index increased 0.4% and the core PCE Price Index was up 0.3%. The personal savings rate was 5.5%, a slight increase from 5.4% in December.
The ISM Manufacturing Index for February increased to 57.7% from the 56.0% reported in the previous month. Manufacturing purchasing managers are somewhat optimistic about business.
Initial jobless claims for the week ending February 25 decreased by 19,000 to 223,000. Continuing claims increased by 3,000 to 2.066 million.
On The Other Hand
Excluding transportation, durable goods orders declined 0.2% following a 0.9% increase in December.
Construction spending declined 1.0% in January but December spending was upwardly revised to 0.1% from the previously reported -0.2%. The report was well under the 0.6% growth which was expected.
Pending Home Sales declined 2.8% in January. The December figure was revised downward to an increase of 0.8% from the previously reported 1.6%.
All Else Being Equal
Nearly all of the sentiment indexes, the stock market included, have become positive. Consumers, business managers and investors are signaling they expect the economy to continue its expansion. There is no reason for concern over the age of the current recovery. There is plenty of slack in the economy. The labor market, while improving, is far from tight. The capacity utilization rate is nowhere near signaling a peak in this business cycle. Inflation has begun to increase but without a wage push, problematic rates are months and possibly years away.
Last Week's Market

The Week Ahead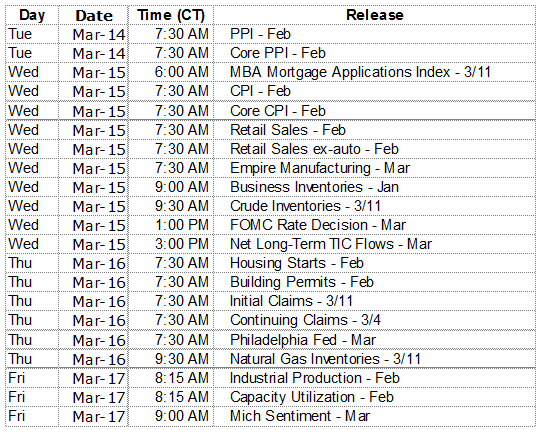 The information provided is obtained from sources believed to be reliable. Forecasts cannot be guaranteed. Past performance is not a guarantee of future results.