Not this year, according to Stephen Auth, who oversees asset allocation at Federated Investors. Any corrections should be viewed as buying opportunities. He provides observations to support his view. News of the various political risks is mostly noise and both tax and healthcare reforms will begin to take shape in coming weeks. First quarter earnings reports provide evidence the corporate earnings recession is ending. The bond market is signaling the increase in interest rates will be moderate and gradual. Finally, the rotation out of cyclical stocks into large cap tech stocks has been a healthy transition setting the stage for a higher market driven by "the well-rested" cyclicals, financials and energy issues which have recently lagged.
On The One Hand
Import prices in April rose 0.5% for the month and were up 4.1% year-over-year. Export prices registered a 0.2% increase for the month and a three percent year-over-year gain.
The Producer Price Index for April rose 0.5%, well above the 0.2% consensus expectation. At an annual rate, producer prices are up 2.5%.
The Consumer Price Index increased 0.2%, in line with expectations. Consumer prices are up 2.2% year-over-year.
New claims for unemployment insurance declined 2,000 last week to 236,000. Continuing claims fell 61,000 to 1.92 million, the lowest reading since 1988.
Retail sales increased 0.4% in April and March was revised upward from -0.3% to 0.1%.
On The Other Hand
Total business inventories increased 0.2% in March. Total business sales were flat. Retailers' inventories increased 0.5% following a 0.3% jump in February.
All Else Being Equal
First Trust puts the significant number of recent negative department store earnings reports in context by pointing out, "…the consumer is doing fine. Retail sales rose 0.4% in April and were up 0.7% including upward revisions for February and March. One popular narrative is that since many retailers are closing brick and mortar stores, the consumer is not spending money. But consumers are just spending their money differently than in the past, buying items from the internet instead of brick and mortar stores. Non-store retailers made up 10.8% of retail sales in April, the largest portion ever and that will keep growing in the years ahead. Others were worried about slow consumer spending growth in the first quarter, but recent data are putting that to rest."
Last Week's Market

The Week Ahead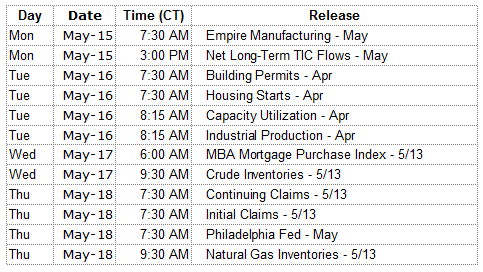 The information provided is obtained from sources believed to be reliable. Forecasts cannot be guaranteed. Past performance is not a guarantee of future results.