As of May 10th, only ten companies of the five hundred which make up the S&P 500 Index are responsible for 46% of the gain in the index so far in 2017. The S&P 500 is a market capitalization weighted index and those same ten companies make up just 12% of the market cap of the index. It would be nice to see an expansion in the breadth of the rally beyond the large tech sector names which have generally driven gains so far this year. At the same time, a market correction on the part of the big tech sector names could exaggerate any short-term correction in the S&P 500. It will be interesting to see how the army of new, passive index investors will handle such a decline. When the time comes, beware of the noise the financial media will produce. Talk to your Account Officer at The Trust Company of Kansas for the news and skip the noise.
On The One Hand
Industrial production increased one percent in April and is up 2.2% year-over-year. The capacity utilization rate increased to 76.7% from 76.1% in March, placing the rate 3.2 percentage points below the long-term average.
Initial unemployment claims continued well under 300,000 declining by 4,000 to 232,000. Continuing claims declined 22,000 to 1.898 million, the lowest level since November 5, 1988.
The Philadelphia Fed Index rose sharply to 38.8 in May from 22.0 in April.
The Leading Economic Index increased 0.3% in April.
On The Other Hand
Housing starts came in at a seasonally adjusted annual rate of 1.172 million in April, seven percent under expectations and down 2.6% from March starts. Building permits declined 2.5% with single-family permits down 4.5%.
All Else Being Equal
The economic expansion is intact with signs of slight acceleration sufficient to keep the Fed on track to raise its Fed Funds target rate during the June 13-14 meeting.
Last Week's Market

The Week Ahead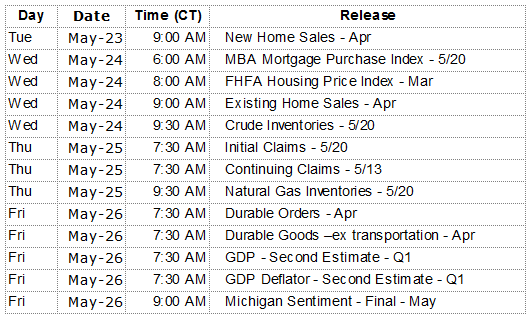 The information provided is obtained from sources believed to be reliable. Forecasts cannot be guaranteed. Past performance is not a guarantee of future results.