Financial planning is one half of the process. Estate planning, often neglected by the majority of financial service providers, is the other half of the process. The Trust Company of Kansas (TCK) has always stressed a holistic approach to wealth management.  Good investment results can be squandered if accounts are not appropriately titled and beneficiaries are not properly designated. The entire process of financial planning along with estate planning is essential.
Changes in the law, including the tax code, can affect the efficient execution of your estate plan. The ownership of real estate or mineral interests in multiple states can require modifications to your estate plan. Also, changes in the health, employment and marital status of family members and other beneficiaries can create the need for amendments to your estate plan.
Begin your review by reading Dan Brogren's 12 Reasons to Review Your Will on our web site. Then, contact Dan or your officer at TCK to discuss the specific issues of concern in not just your will but your entire estate plan. As administrators of a variety of estates, our insights are valuable.
On The One Hand
Initial weekly unemployment claims were up 1,000 to 234,000, well under the 300,000 level which would signal labor market weakness. Continuing claims increased by 24,000 to 1.923 million.
The second estimate for first quarter GDP came in at an annual rate of 1.2%, up from the advance estimate of 0.7%. The GDP Deflator was revised down to 2.2% from the advance rate of 2.3%.
On The Other Hand
April new home sales came in at a seasonally adjusted annual rate of 569,000, down 11.4% from the upwardly revised March rate of 642,000. The report was a disappointment but not as bad as the headline considering positive revisions of 55,000 new homes added to the previously reported January through March totals.
April existing home sales were below expectations at an annual rate of 5.57 million, down 2.3% from 5.70 million in March. Although the inventory of existing homes available for sale increased 7.2% in April, the estimated 1.93 million existing homes is nine percent below year ago levels. The median price for existing single-family homes rose 6.1% to $246,100.
Durable goods orders declined 0.7%. Orders excluding transportation declined 0.4%. After taking into account significant revisions to the Census Bureau's data, core durable goods orders have been flat over the past three months.
All Else Being Equal
While the trend in the housing market continues to show improvement it is not generally considered to be in great health and is not adding significantly to GDP. The labor market remains relatively tight. The GDP revision for Q1 growth was positive. The Atlanta Fed's latest estimate for Q2 growth is +3.7%.
Last Week's Market

The Week Ahead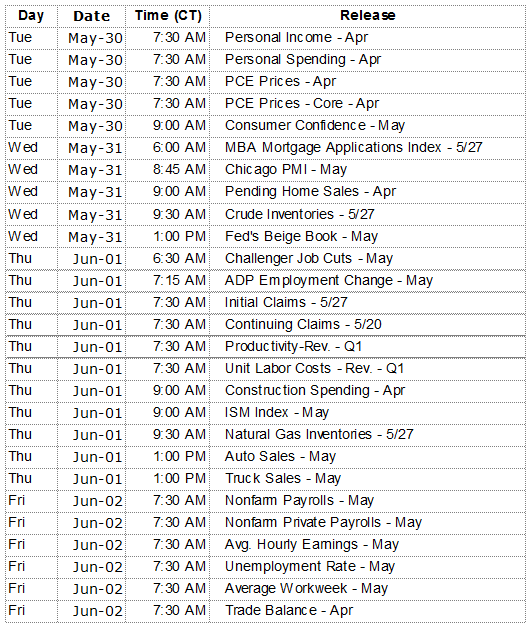 The information provided is obtained from sources believed to be reliable. Forecasts cannot be guaranteed. Past performance is not a guarantee of future results.