Stocks, as measured by the S&P 500, would have been higher again last week if it had not been for the large cap tech stocks, this year's market rally leaders. After year-to-date gains of 20% to 30%, the group took a breather Friday finishing with one day declines of three to four percent. Rather than dragging stocks in general along with them, funds appeared to flow into financial, energy and pharma/biotech stocks which gained on Friday. More selloff in the big tech stocks would not be unusual in coming days and weeks. Such short term guesswork has limited value. Investors focused on their long term plans should relax, avoid getting emotional, and improve their portfolios by taking advantage of lower valuations when the market makes them available.
Ahead of the Federal Reserve's Federal Open Market Committee meeting on Tuesday and Wednesday, market rates were steady. The 10-Year Treasury finished the week yielding 2.20%, its level since the middle of April. Most Fed watchers believe the market is expecting a one-quarter percent increase in the Fed Funds rate. What is more important will be the Fed's outlook for the balance of the year and comments on its plans for reducing the size of its massive balance sheet.
On The One Hand
While disappointing, first quarter productivity was revised up to unchanged from the initially reported decline of 0.6%. Unit labor costs grew at a revised rate of 2.2% down from the three percent initially reported as a result of the revision in productivity.
Consumer credit increased at an annual rate of 2.50% in April. Consumers remain confident but are taking on debt at a reasonable rate.
Initial claims declined 10,000 to 245,000. Continuing claims were down 2,000 to 1.917 million.
On The Other Hand
Factory orders declined 0.2% in April.
The ISM Services Index declined to 56.9 in May, down from 57.5 in April. On the bright side, May was the 89th straight month the indicator was reported at a level greater than 50.0, an indication of expansion.
All Else Being Equal
On Friday, the Atlanta Fed announced its latest estimate for second quarter GDP growth is 3.0%, down from their early May estimate of four percent. The economy continues to plod along while participants await tax, regulatory and healthcare reforms.
Last Week's Market

The Week Ahead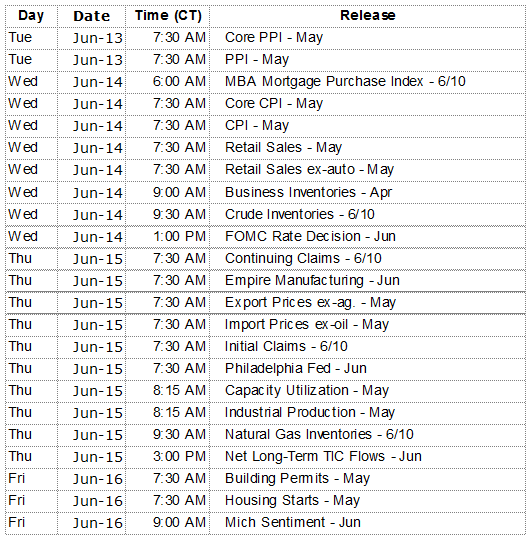 The information provided is obtained from sources believed to be reliable. Forecasts cannot be guaranteed. Past performance is not a guarantee of future results.