Some financial service providers are struggling to comply with the Department of Labor's new Fiduciary Rule. The rule requires any financial services professional who provides retirement planning advice to raise their standard of operation to one of a fiduciary. The introduction of the rule created a good deal of turmoil among many in the traditional brokerage industry. We do not understand the resistance to the new rule. Do-it-yourself investors are not affected. They can continue to plan, research and manage their own investments. Those investors who do not have the time or inclination for DIY retirement planning should be able to rely on the simple fact that by law, the retirement planning advice they receive from a financial services provider will be in their sole best interest.
At The Trust Company of Kansas, we cannot understand the commotion. By law, we have always been held to a fiduciary standard and not just for retirement plans. We have a fiduciary duty to all clients in all phases of their planning. The fiduciary standard is considered to be the highest standard under the law. For a closer look read Martha Linsner's article, What is a fiduciary?
On The One Hand
Existing home sales were at a seasonally adjusted annual rate of 5.62 million in May, up 1.1% from the previous month and 2.7% from the year ago level. The median price for all housing types was up 5.8% to a new high of $252,800. The inventory of homes for sale increased 2.1% to 1.96 million putting it 8.4% lower than year ago levels and at a current 4.2-month supply versus what would be a 6.0-month supply in a healthier market.
Unemployment claims remained at healthy levels. Initial unemployment claims for the week rose 3,000 to 241,000. Continuing claims increased by 8,000 to 1.944 million.
For the ninth month in a row, the Leading Indicators increased 0.3% in May while April was revised one-tenth of a percent lower to 0.2%. The Coincident Economic Index and the Lagging Economic Index also increased 0.1% in May.
New home sales rose to a seasonally adjusted annual rate of 610,000 in May, up 2.9% from the previous month and 8.9% from year ago levels.
On The Other Hand
The median price of a new home sold rose 16.8% from year ago levels to a record high of $345,800. The average sales price was up 16.1% to $406,400. Supply shortages in the existing home market and sharply higher prices for new homes are problems for first-time home buyers.
All Else Being Equal
The grass is growing, paint is drying, and the U.S. economy is moving forward at a similar snail's pace. The Atlanta Fed's June 16th forecast for second quarter GDP is now down to +2.9% from its early May forecast of 4% plus. If it holds, it would be a welcome improvement from the sluggish 1.2% growth of the first quarter.
Last Week's Market

The Week Ahead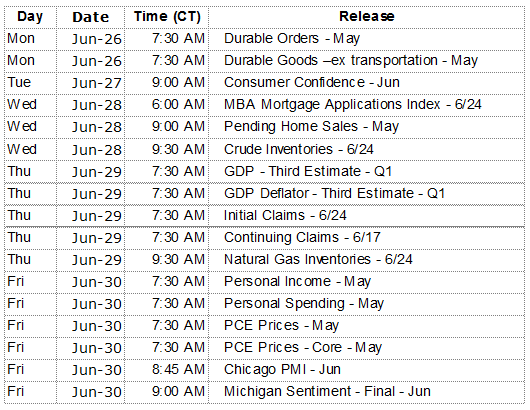 The information provided is obtained from sources believed to be reliable. Forecasts cannot be guaranteed. Past performance is not a guarantee of future results.