You do not have to look very far to get financial planning and investment advice. In fact, you do not even have to be looking. Television, newspapers, friends, family members and people claiming to be financial professionals provide a steady flow of free, unsolicited financial advice. A financial advisor who urges you to act on advice without a thorough understanding of your current financial position and responsibilities along with your future financial goals is, in my opinion, guilty of malpractice.
The situation is somewhat similar when it comes to health issues. Suggested medical procedures or drugs may sound promising but could be dangerous, even deadly, to someone who does not have suitable physical characteristics. A physician will examine, question, test and analyze all of your vital statistics before recommending a course of treatment. A good physician will also provide a thorough explanation of the course of treatment along with the benefits and side effects.
A professional will make certain to have a thorough understanding of you and your needs before recommending any course of action. One quick way to filter out a non-professional is to measure the amount of time which is spent on you and your situation versus the time spent on the advisor's situation and advertised abilities. For more thoughts on choosing a financial professional, read Dr. David Ross's article, How to Choose an Investment Advisor.
On The One Hand
Housing starts surprised by rising 8.3% to a seasonally adjusted annual rate of 1.215 million.
Building permits rose 7.4% to a seasonally adjusted annual rate of 1.254 million.
Initial unemployment claims decreased by 15,000 to 233,000. Continuing claims increased by 28,000 to 1.977 million.
The Conference Board Leading Economic Index increased again in June, driven by positive contributions from the majority of its components. June increased 0.6 percent to 127.8 from 127.0 in May and is currently at an all-time high.
On The Other Hand
Import prices and export prices both declined 0.2% in June, with lower fuel prices driving the former and lower agricultural prices driving the latter.
A Philadelphia Fed Index (Manufacturing Business Outlook Survey) reading above zero indicates expansion and while the July figure came in at 19.5 it was down sharply from 27.6 in June. The current index indicators suggest positive but weaker growth.
All Else Being Equal
As part of its June 30th survey, the National Federation of Independent Business (NFIB) seeks to identify the single most important problem facing small business owners. The top three responses given in the June 2017 survey were identical to the ones given in June 2016:  (1) taxes, (2) government regulations and (3) quality of labor. With regard to the last response, the survey revealed small business owners are hiring, but are struggling to find qualified workers with 46% of small business owners reporting few or no qualified applicants for the positions they are attempting to fill. Nevertheless, the NFIB Small Business Optimism Index on June 30 stood at a reading of 103.6, up from 94.5 on 6/30/16. This suggests small business owners are optimistic heading into the second half of 2017.
Last Week's Market

The Week Ahead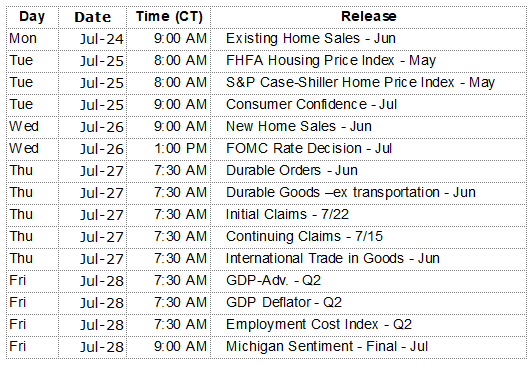 The information provided is obtained from sources believed to be reliable. Forecasts cannot be guaranteed. Past performance is not a guarantee of future results.