As we pass through the dog days of summer, the month of August is barely hanging onto a gain as of Friday's close. The financial media is reporting the market in August is on track to be the worst of the year. No matter how August finishes, clear thinking investors know none of this month's or even this year's market activity will matter in the course of one's working life or retirement years.
Market records over various spans of time are a fact of life. This is normal volatility and is expected and planned for. In retirement planning, market action is but one of the factors to be taken into consideration. Other factors which must be considered are addressed in Pam Ryser's post on our website titled, Developing a strategy for retirement. At The Trust Company of Kansas, a comprehensive personal retirement strategy is developed for each client over time. If you are a new client or an existing client just reaching the age at which retirement planning is becoming of interest, check out Pam's post and then contact your officer for a personal plan.
On The One Hand
Retail sales exceeded expectations by increasing 0.6% in July. Including revisions to prior months, sales were up 1.1%. Retail sales are up 4.2% versus a year ago.
Total business inventories increased 0.5% in June. The inventory-to-sales ratio for June ticked up to 1.38 from 1.37 where it has been the last six months, but was down from 1.40 one year ago.
Industrial production rose 0.2% in July and is now up 2.2% from a year ago. Capacity utilization remained unchanged at 76.7% in July.
Initial jobless claims fell 12,000 to 232,000, while continuing claims declined 3,000 to 1.95 million.
The index of Leading Economic Indicators increased 0.6% in June while May was revised down 0.1% to an increase of 0.2%. This sign of expansion was confirmed by both the Coincident Index and the Lagging Index, each of which posted gains of 0.2%.
The preliminary University of Michigan consumer sentiment index for August increased to 97.6 from July's final reading of 93.4.
On The Other Hand
Following a strong June increase, housing starts declined 4.8% in July to a 1.155 million annual rate, below the consensus expected 1.220 million. Starts are down 5.6% versus a year ago. New building permits fell 4.1% in July to a 1.223 million annual rate. Compared to a year ago, permits for single-family units are up 13% while permits for multifamily homes are down 9.8%.
The Philadelphia Fed Index dipped to 18.9 in August from 19.5 in July, leaving it above zero but well under the recent May high of 38.8.
All Else Being Equal
It has been another quiet week of economic data. The Atlanta Fed raised its estimate for real Q3 GDP growth to 3.8%. If this turns out to be the case, the data in the coming weeks should begin to show an increasing pace in economic activity. In addition, the Fed is planning to begin its long awaited balance sheet reduction in the coming weeks. The credit market's response is going to be interesting. We expect market interest rates to firm between now and the end of the quarter.
Last Week's Market

The Week Ahead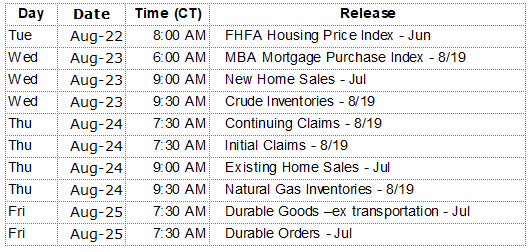 The information provided is obtained from sources believed to be reliable. Forecasts cannot be guaranteed. Past performance is not a guarantee of future results.