In my experience, common misconceptions investors have deal with their understanding of their investment time horizon. They tend to plan as though their horizons end at retirement or at age 70-1/2 when required minimum distributions from retirement accounts must begin. It is true, our goals, tolerance for risk, return objectives and allocations should be reviewed and adjusted as we approach these milestones but if anything, life expectancy tables will make it clear our horizons are considerably longer. At some point, most clients realize their investment time horizons extend well beyond their life spans as they begin to seriously consider the needs of family and perhaps charitable institutions where they wish to contribute.
Tasha Bucher has added a useful article, Planning For a Long Life, to our website. It covers a range of issues to be considered in a comprehensive financial plan. Your financial plan must be more than the investment plan. Don't let your years of savings and investment planning get derailed by omitting other safeguards necessary to protect you and your family throughout your lives.
On The One Hand
Weekly initial unemployment claims increased by 2,000 to 234,000. Continuing claims were unchanged from the prior week at 1.954 million.
The ugly headline of the durable goods report hid what was in reality a solid report. While new orders fell 6.8%, the decline was due to commercial aircraft orders which fell 70.7% after rising 129.3% in June. Excluding the consistently volatile transportation sector, orders rose 0.5% in July, narrowly beating consensus expectations.
On The Other Hand
New single-family home sales fell 9.4% in July to a seasonally adjusted annual rate of 571,000, well below the expected 610,000. Sales were down 8.9% from the same period a year ago.
The median price of new homes sold rose 6.3% from the year ago level to $313,700. The average price was $371,200, up 4.6% from last year.
At a seasonally adjusted annual rate of 5.44 million, existing home sales declined 1.3% in the month of July. Although the slowest pace of sales in 2017, the July rate was 2.1% above year ago levels.
All Else Being Equal
Our thoughts and prayers are with our neighbors along the Texas and Louisiana Gulf Coast whose lives and livelihoods are at risk from the storm. Contributions to organizations like the American Red Cross here and the Salvation Army here could help those who are in need.
Last Week's Market

The Week Ahead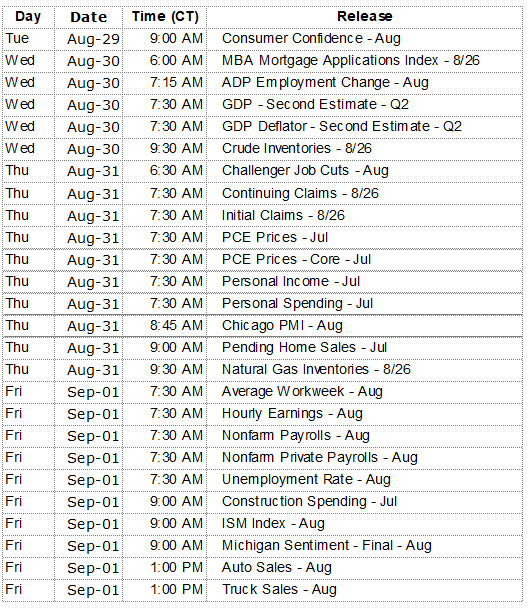 The information provided is obtained from sources believed to be reliable. Forecasts cannot be guaranteed. Past performance is not a guarantee of future results.