Yields on Treasuries debt with maturities of one year and longer declined leaving the yield on the benchmark 10-Year Note at 2.05% on Friday. The S&P 500 finished the week fractionally lower as investors processed new information with regard to threats from North Korea, the damage and rebuilding after Hurricane Harvey and potential threats from approaching Hurricane Irma.
Topping off the week of stormy news, Equifax announced the massive security breach of its database in which the personal information of 143 million American consumers was exposed to hackers. The Federal Trade Commission has posted information on the breach and offers helpful advice on its web site. To access the site follow this link.
On The One Hand
Factory orders declined 3.3% in July following an upwardly revised 3.2% increase in June. Behind the headline, the data shows business spending picked up in July as factory orders, excluding transportation orders, increased 0.5% following a 0.1% increase in June. Nondefense capital goods orders excluding aircraft increased 1.0%
The trade deficit was better than expected in July, coming in at $43.7 billion. Exports declined $0.6 billion in July and imports declined $0.4 billion. Compared to one year ago, trade has expanded, with exports up 4.9% and imports up 5.1%.
The ISM Non-Manufacturing Index rose to 55.3 in August from 53.9 in July.
Second quarter productivity was revised up to a seasonally adjusted annual rate of 1.5% from the preliminary estimate of 0.9%. Unit labor costs were revised down from 0.6% to 0.2%
On The Other Hand
The effects of Hurricane Harvey showed up in the initial unemployment claims report with an irregular increase of 62,000 to 298,000. Continuing claims for the week ending August 26 declined 5,000 to 1.940 million.
Wholesale inventories rose 0.7% in June following an upwardly revised 0.6% increase in May. Wholesale sales also rose 0.7% in June after an upwardly revised May decline of 0.1%, from -0.5% which was originally reported. The inventory-sales ratio was flat at 1.29.
All Else Being Equal
The economic data is going to get messy as the effects of hurricanes Harvey and Irma become apparent. We got the first jolt from last week's jump in initial unemployment claims. Reports like this will continue over the next month or two. The initial impact on GDP may be a near term reduction of several tenths of one percent in growth. The short term shocks should not affect the intermediate term economy.
On Friday, the Atlanta Fed increased its estimate for Q3 GDP growth to 3.0%. On the same day, the New York Fed put its "nowcast" for real Q3 GDP growth at 2.1%. Some Fed watchers are now predicting its plans to tighten will be postponed. Yet others believe the base case for the economy is slow acceleration in the growth rate and this will keep the Fed on its current schedule to normalize its balance sheet and short term interest rates.
Last Week's Market

The Week Ahead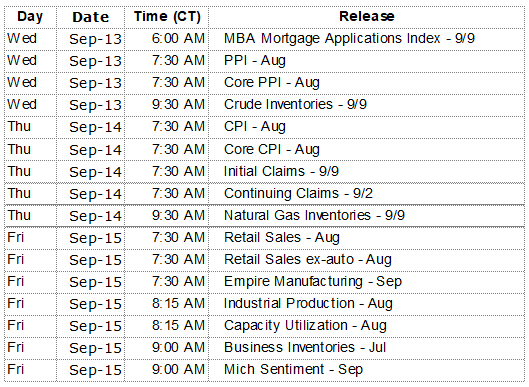 The information provided is obtained from sources believed to be reliable. Forecasts cannot be guaranteed. Past performance is not a guarantee of future results.