Following is a snapshot of the total returns for various asset classes for the year 2017.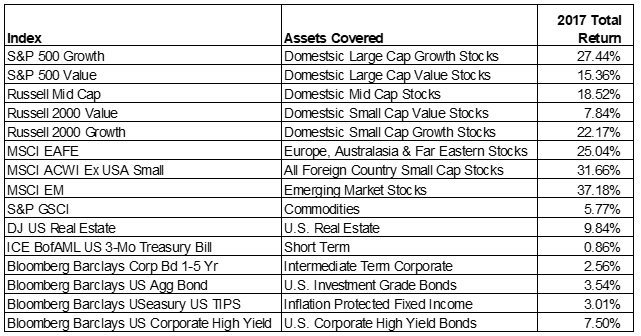 Among widely followed commodities, gold, at $1,305.50 per ounce was up 13% for the year and West Texas intermediate crude oil was up 12% at $60.42 per barrel.
The Weekly Update will not be published for the next two weeks but will return Monday, January 22nd.
On The One Hand
New unemployment claims for the week were unchanged at 245,000. Continuing claims increased by 7,000 to 1.943 million.
The Chicago Purchasing Managers Index (PMI) rose to 67.6 in December, the highest PMI level since March 2011. The consensus expectation was for a 2 point decline from the November reading of 63.9.
On The Other Hand
The Consumer Confidence Index for December dipped to 122.1 from 128.6 which was a 17-year high.
All Else Being Equal
The data continues to show a slowly growing economy. The potential impact of the new tax bill is in the process of being added to analysts' economic models. Early estimates are for real GDP growth to increase as the year progresses by something in the range of one-quarter to one-half of one percent. The earliest indications will come soon in reports on business capital expenditures and hiring.
Last Week's Market
The Week Ahead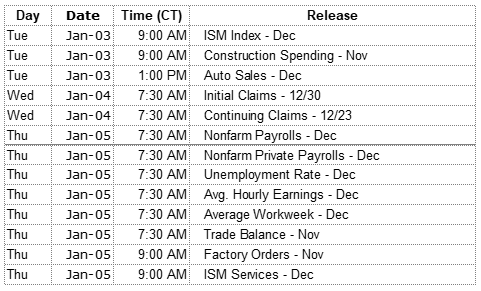 The information provided is obtained from sources believed to be reliable. Forecasts cannot be guaranteed. Past performance is not a guarantee of future results.