The Dow Jones Industrial Average finished the week at 26,616.71, up over 20,000 points from its great recession low of 6,547.05 on March 9, 2009. The S&P 500 closed Friday at 2,872.87, up almost 2,200 points from its March 9, 2009 close of 676.53.
The S&P 500 closed up 1.18% on Friday, the first day the index has had a 1% up day since September 11, nearly 20 weeks ago. The index is up 15.46% during the period.
It has been 19 months since the market has had a 5% correction. On average, the market experiences a 5% or greater correction every four months and a 10% or greater decline every 12 months. February 11, 2016, marked the end of the last 10% or greater correction when the S&P 500 ended a 14 week decline of 13.31%.
Always be prepared for a market correction by staying diversified. Avoid the temptation to chase returns during bull markets.
On The One Hand
The Department of Labor reported weekly initial claims were up 17,000 to 233,000, continuing well under the 300,000 level. Continuing claims declined 28,000 to 1.937 million.
The Leading Economic Index was up 0.6% in December. The Coincident Economic Index increased 0.3% and the Lagging Economic Index increased 0.7%
The advance estimate of real fourth quarter GDP was reported at 2.6% and the GDP Price Deflator increased 2.4%.
New orders for durable goods increased 2.9% in December.
On The Other Hand
Existing home sales declined 3.6% month-over-month in December to a seasonally adjusted annual rate of 5.57 million. The median existing home price for all housing types increased 5.8% to $246,800. Supply constraints continue to hinder a stronger sales rate.
New home sales declined 9.3% in December to a seasonally adjusted annual rate of 625,000 on top of a large revision for November sales from 733,000 to 689,000. The annual rate of new home sales was up 14.1% in December.
All Else Being Equal
Continued economic strength and the belief growth in corporate earnings will continue have buoyed investors. Inflation is at a muted rate. The FOMC meets this week to consider interest rates with no indication of an increase in January. The Atlanta Fed's GDPNow estimate for Q4 GDP growth was 3.4% notably higher than Friday's advance estimate of 2.6%. It will be interesting to see what happens to revisions as they come in over the next several months.
Last Week's Market

The Week Ahead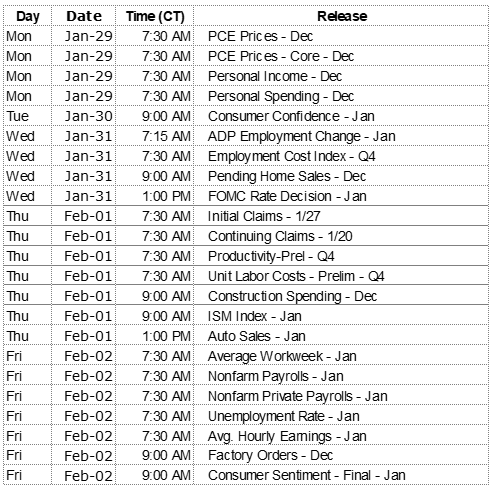 The information provided is obtained from sources believed to be reliable. Forecasts cannot be guaranteed. Past performance is not a guarantee of future results.