The series continues this week with a dive into the details. After establishing the broad outline of goals in step #1 of last week's update, it is time to begin adding the detail. Priorities ranging from required to desired must be assigned to each goal. Each goal will land somewhere on this spectrum and its position will be determined as financial resources are identified and estimates for the cost of each goal are recognized.
Expanding step #2 below reveals a considerable amount of detail which must be gathered and organized in order to move forward. Do-it-yourselfers with the education, time and ability to complete this step themselves can get started. Those looking for assistance can follow the links included in the steps below. We believe those who do need significant help should get it from a fiduciary who by law has a duty to act in a prudent manner and solely in the best interests of the client.
Establish financial objectives and determine the time frame associated with each one.
Determine the amount of savings which will be necessary to fund the investment accounts sufficiently.

Take a thorough inventory. Identify all assets, debts, sources of income and financial obligations.
Write it down. Create a balance sheet and a budget.
Make a record of each asset's ownership and beneficiaries, if any.
Use the resources provided by The Trust Company of Kansas to get started. Get help from a trust officer who has the education and decades of experience to help.
Project the cost or cash flow needs necessary for each financial objective.

Determine the types of investment accounts available to best take advantage of provisions in the tax code.
Identify investment classes and determine the realistic expected returns each might generate over the spans of time associated with each objective.
Identify the risks involved with investing in each of the available asset classes.
Determine when cash outflows need to begin and from which type of account it should be withdrawn.
On The One Hand
On the jobs front, initial unemployment claims rose 11,000 to 234,000. The four-week moving average for initial claims increased by 6,250 to 219,750, which is close to its lowest level since 1969. Continuing claims rose 29,000 to 1.74 million. These figures suggest healthy job growth continued into May.
The data behind the headline was positive. New orders for durable goods declined 1.7% in April following a revised 2.7% gain in March. Excluding transportation, orders increased 0.9% in April after increasing 0.4% in March. Additional details in the report showed shipments of nondefense capital goods, excluding aircraft, rose 0.8%. It also conveyed a modest pickup in business spending, evidenced by the 1.0% increase in new orders for nondefense capital goods, excluding aircraft.
On The Other Hand
New home sales declined 1.5% month-over-month in April to a seasonally adjusted annual rate of 662,000 from a downwardly revised 672,000 in March. Sales remain 11.6% higher than year ago levels. Based on the current sales pace, the inventory of new homes for sale increased to a 5.4-months' supply, versus 5.3 months in March and 5.4 months in the year-ago period.
Existing home sales declined 2.5% in April to a 5.46 million annual rate, below the consensus expected 5.55 million. Sales are down 1.4% versus a year ago. Lack of available listings continues to weigh on activity. The report showed the lowest level of available units for any April since records began being kept in 1999. Inventories, down 6.3% in the past year, have now declined on a year-over-year basis for 35 consecutive months.
Consumers' expectations declined during the month. The University of Michigan Consumer Sentiment Index for May was revised to 98.0 from the preliminary figure of 98.8.
All Else Being Equal
The Atlanta Fed's latest GDPNow estimate for real Q2 GDP growth is 4.0% while the New York Fed's Nowcast estimate stands at 3.0%. Recent economic data and Fed statements continue to support a one-quarter percent increase in the Fed Funds rate early next month.
Last Week's Market

The Week Ahead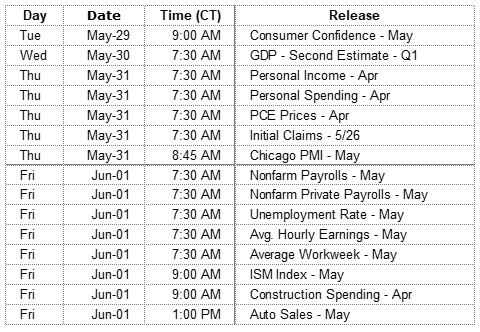 The information provided is obtained from sources believed to be reliable. Forecasts cannot be guaranteed. Past performance is not a guarantee of future results.