Planning does not get easier in the distribution phases of a plan. There is not sufficient room in this brief to cover all of the issues involved. Step #6 points to just a few of the planning issues in a very broad way. The details in a personal financial plan can best be addressed by a fiduciary advisor who has the education, experience and legal duty to provide advice which is solely in your best interest.
Establish financial objectives and determine the time frame associated with each one.
Determine the amount of savings which will be necessary to fund the investment accounts sufficiently.
Determine the types of investment accounts available to best take advantage of provisions in the tax code.
Identify investment classes and determine the realistic expected returns each might generate over the spans of time associated with each objective.
Identify the risks involved with investing in each of the available asset classes.
Determine when cash outflows need to begin and from which type of account it should be withdrawn.

Among the numerous factors to be considered during the distribution stages of a plan are age, health, life expectancy, lifestyle and the needs of dependents.
The usual suspects, investment returns and their volatility, continue to be a challenge in the distribution phase of life but to complicate matters, the effects of complex tax rules also begin to play a larger role. The timing of required distributions from tax deferred accounts is a consideration. At this stage, a review of beneficiary designations is also warranted to minimize effects of income taxes for heirs. Overlooking these tax planning steps can cost individuals and their beneficiaries unnecessary income taxes.
Dollar cost averaging, a beneficial strategy during the accumulation phase can backfire in the distribution phase. Rebalancing strategies should be used to fund and maintain a low volatility reserve from which regular monthly distributions can be made.
Another consideration in distribution planning will deal with how best to make final distributions to heirs. Distributions may be outright or there may be significant advantages such as asset protection which would make distributions in a trust to be most advantageous.
On The One Hand
New home sales in May beat even the most optimistic forecast rising 6.7% in May to a 689,000-annualized rate and are now up 14.1% from a year ago. The median price of new homes sold was $313,000 in May, down 3.3% from a year ago.
After four straight weeks of declines, initial weekly unemployment claims rose 9,000 to 227,000. The 4-week moving average was 222,000. The four-week moving average of continuing claims dropped 3,750 to 1.72 million, the lowest level since December 1973.
Personal income rose 0.4% in May and is up 4.0% in the past year. Personal consumption increased 0.2% in May and spending is up 4.6% year-over-year. The PCE deflator (consumer prices) rose 0.2% in May and is up 2.3% versus a year ago.
The Chicago PMI, which measures manufacturing sentiment in that region, rose to 64.1 in June from 62.7 in May.
On The Other Hand
New orders for durable goods declined 0.6% in May. Orders excluding transportation declined 0.3%. While not an upbeat monthly report, orders remain 9.2% higher than a year ago and orders excluding transportation are up 7.8%.
The third revision of first quarter GDP was reported at 2.0% down from 2.2%. The decline was primarily due to a reduction in the growth of spending on services.
The University of Michigan's final Index of Consumer Sentiment for June was reported at 98.2, down from the preliminary reading of 99.3. Reports indicate tariff concerns were behind the drift in sentiment.
All Else Being Equal
As the quarter comes to a close, the Atlanta Fed's latest GDPNow estimate for real Q2 GDP growth dipped to 3.8%, below 4% but a healthy growth rate none the less. The New York Fed staff's estimate remained under 3% at 2.8%. Both guesses are better than the 2% final growth rate for the first quarter.
Last Week's Market

The Week Ahead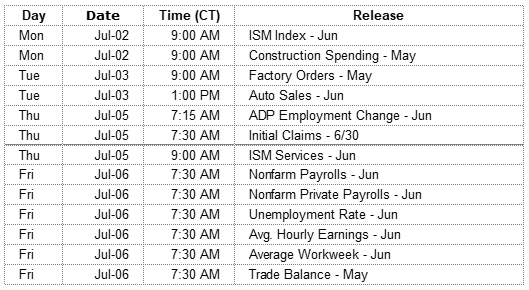 The information provided is obtained from sources believed to be reliable. Forecasts cannot be guaranteed. Past performance is not a guarantee of future results.