Value stocks outpaced growth stocks last week. The S&P 500 moved to new all-time highs, finishing the week up 0.85%, while the NASDAQ Composite remained below its late August highs, closing at 0.28% for the week. Further evidence of the relative strength of value stocks was evident in the 1.51% gain in the S&P 500 Value Index versus the 0.32% increase in the S&P 500 Growth Index. Value stocks have long traded at an unusually wide discount to growth stocks, so we will be watching to see if last week's adjustment is the beginning of a trend in greater relative value stock performance.
Interest rates continued their slow rise and we saw the 10-Year Treasury yield in a range from 3.00% to 3.08% last week. The Fed's actions this week are expected to support an intermediate-term range for the 10-Year of 3.00% to 3.25%.
On The One Hand
Housing starts increased 9.2% in August to a 1.282 million annual rate and starts are up 9.4% year-over-year. The increase is due to multi-unit starts. In the past year, single-family starts are down 0.2% while multi-unit starts are up 38.1%.
Initial jobless claims fell 3,000 to 201,000, the lowest reading since November 1969. Continuing claims declined by 55,000 to 1.65 million, a level not seen since August 1973.
The Philadelphia Fed Manufacturing Business Outlook Survey for September rose sharply to 22.9 from 11.9 in August.
The Leading Economic Index increased 0.4% in August and July's increase was revised higher to 0.7% from 0.6%. The Coincident Economic Index increased 0.2% and the Lagging Economic Index also increased 0.2%.
On The Other Hand
New building permits declined 5.7% in August to a 1.229 million annual rate.
Existing home sales were unchanged in August at a 5.34 million annual rate. Sales are down 1.5% versus a year ago.
All Else Being Equal
The Fed is expected to raise the Fed Fund Rate range by 0.25%, from 1.75% – 2.00% to 2.00% to 2.25%. The Fed report is likely to be upbeat and signal another 0.25% increase in December barring significant deterioration in the economic data over the next three months.
Last Week's Market

The Week Ahead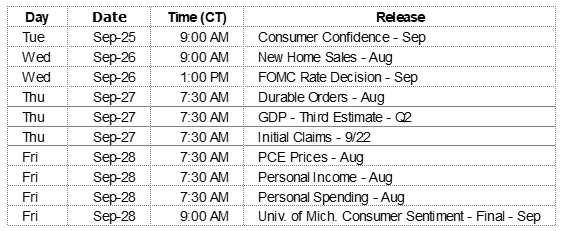 The information provided is obtained from sources believed to be reliable. Forecasts cannot be guaranteed. Past performance is not a guarantee of future results.