This year's stock market correction and increased volatility has monopolized the headlines and commentary leaving other important issues unaddressed. One of those topics is tax planning. The new standard deduction which is part of the 2018 tax law will increase the number of individuals and couples who will use the standard deduction. This change, by itself, will benefit most taxpayers and ease their planning requirements. Some taxpayers, however, will be able to realize even greater tax savings by increasing their tax planning effort and "bunching"deductible expenses. This planning is explained by Paul Fowler in his article, Multi-year Tax Planning. Consider the strategy. The additional planning could result in substantial tax savings for some taxpayers.
The Trust Company of Kansas wishes you a merry Christmas and a healthy and happy new year. The Weekly Update will take a two week vacation over the holidays.The next issue will be delivered January 7, 2019.
On the One Hand
The Consumer Price Index (CPI) was unchanged in November. The CPI is up 2.2% from a year ago.
Import prices declined 1.6% in November following an increase of 0.5%in October. Export prices declined 0.9% in November following an upwardly revised 0.5% in October.
Initial jobless claims fell by 27,000 to 206,000. The four-week moving average for initial claims declined by 3,750 to 224,750. Continuing claims rose by 25,000 to 1.661 million.
Retail sales rose 0.2% in November and sales in prior months were revised upward by 0.4%. Retail sales are up 4.2% versus a year ago.
Industrial production rose 0.6% in November following an October decline of 0.1%, which was revised downward from +0.2%. Industrial production was up 3.9% year-over-year. The capacity utilization rate rose to 78.5%, below its long-term average of 79.8%.
On the Other Hand
Following last month's 0.6% increase in producer prices, the November Producer Price Index continued its advance by increasing 0.1% in November with no revisions to prior months. Producer prices are up 2.5% versus a year ago.
Total business inventories rose 0.6% in October, following a 0.5%increase in September. Total business sales increased 0.3% after a 0.3% increase in September.
All Else Being Equal
While producer prices continued their advance, those increases have not been fully passed on to consumers. Additional price information reported in the week suggests inflation rates will not accelerate in the near term.
The actions and comments coming from this week's FOMC meeting will likely have an impact on the credit and stock markets.The market seems to have a one-quarter percent rate increase baked in. If that is the case, the focus of investors will be on the Fed's commentary on the 2019 outlook and its planned actions.
Last Week's Market

The Weeks Ahead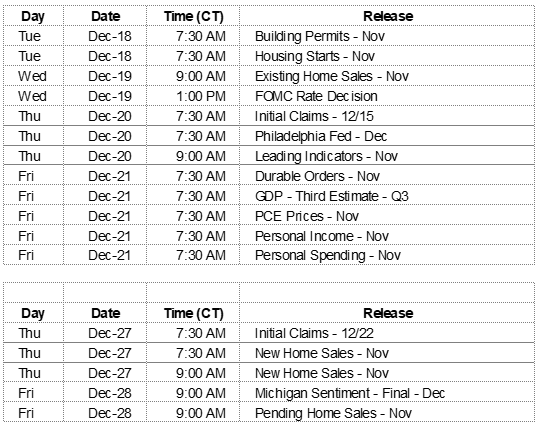 The information provided is obtained from sources believed to be reliable. Forecasts cannot be guaranteed. Past performance is not a guarantee of future results.