For most people, a retirement plan has two stages. During one's working years, techniques like dollar cost averaging augment the power of compounding (the reinvestment of investment income) to grow the value of financial portfolios. The retirement years, when additions to portfolios typically come to an end and distributions begin, require different planning decisions. For example, in retirement, dollar cost averaging in reverse can have negative effects on portfolios. Retirement distributions require careful planning. Chris English goes over the numbers in his Choice of Retirement Start Date article. We will help you plan during both phases.
On the One Hand
Weekly initial unemployment claims dropped below 200,000 for the first time since November 1969, declining by 13,000 to 199,000. The four-week moving average for initial claims declined by 5,500 to 215,000. Continuing claims were down 24,000 to 1.713 million.
On the Other Hand
Existing home sales were down 6.4% in December and finished 2018 down 10.3% for the year.
The Index of Leading Economic Indicators declined 0.1% in December following November's increase of 0.2%. The Conference Board's index was developed using estimates for a number of data points which were unavailable due to the partial government shutdown.
All Else Being Equal
With 20% of the S&P 500 companies reporting, fourth-quarter earnings are up 10.9% on revenue growth of 6.1%.
The FOMC will meet this week and Jerome Powell's Wednesday press conference will keep the pundits busy.
Last Week's Market

The Week Ahead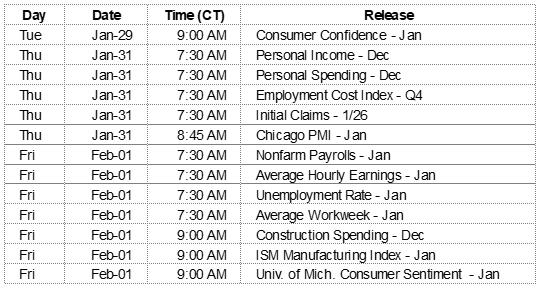 The information provided is obtained from sources believed to be reliable. Forecasts cannot be guaranteed. Past performance is not a guarantee of future results.