Fight the perverse human urges to react to market movements. When stock indexes are making new highs, as they did several weeks ago, many feel the urge to get on board. When stock prices are moving down, the all too common impulse is to sell before prices move even lower. The evidence which proves such market centered responses lead to sub-par returns is overwhelming.
Keep your goals and plan to achieve them at the center of your decision making. Your plan does not fluctuate wildly like the markets. When managed properly, your plan takes advantage of new market highs as well as sharp market declines by rebalancing to keep your allocation aligned with your long-term goals. In the article, Ask a Trust Officer: Stock Market Highs, Vice President and Trust Officer, Tasha Bucher explains how investment decisions are made when they are centered on your personal goals.
On the One Hand
Initial unemployment claims for the week declined by 2,000 to 228,000. Continuing claims for the week ending April 27 increased by 13,000 to 1.684 million.
The Producer Price Index (PPI) increased 0.2% in April. The year over year PPI was 2.2%.
The Consumer Price Index (CPI) increased 0.3% in April. The year over year CPI stands at 2.0%.
The March trade deficit stood at $50.0 billion, in line with expectations. Below the headline, total March trade was higher. Exports rose by $2.1 billion and imports grew by $2.8 billion putting total trade just 0.8% below the record high set in October of 2018.
On the Other Hand
The only negative data releases last week were announcements that trade negotiations with China have stalled.
All Else Being Equal
The Atlanta Fed staff has been reducing its estimate for real GDP growth in the second quarter and now stands 1.6%.
Last Week's Market

The Week Ahead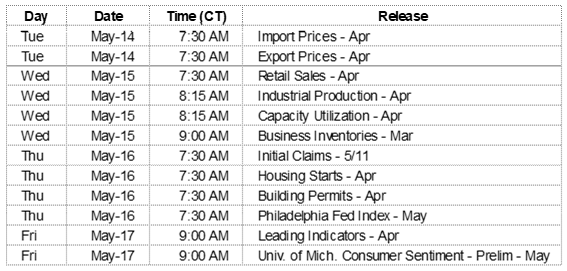 The information provided is obtained from sources believed to be reliable. Forecasts cannot be guaranteed. Past performance is not a guarantee of future results.