There will be a two-week hiatus in the Weekly Update schedule.  Regular updates will return on June 17th.
"Headlines, in a way, are what mislead you, because bad news is a headline, and gradual improvement is not."

~ Bill Gates
Recent developments in the trade negotiations have surprised many about the speed with which a China trade deal is likely. As we have pointed out in prior weeks, a deal will take many more months and even years.
First-quarter corporate earnings surprised on the upside as the anticipated 3-5% year-over-year declines failed to develop. Revenues and earnings were generally 2.5% higher. With the Fed on hold, the economy should continue its expansion, and some expect to see corporate earnings re-accelerate later in the year.
On the One Hand
Initial jobless claims declined 1,000 last week to 211,000. Continuing claims rose 12,000 to 1.676 million. This data suggests another solid month of job creation in May.
On the Other Hand
Existing home sales continued to slip in April, declining 0.4% to a seasonally adjusted annual rate of 5.19 million units. Sales were 4.4% lower than the same period a year ago.
Durable goods orders for April decreased 2.1% following a 1.7% rise in March.
All Else Being Equal
It is discouraging that overall home sales activity remains light despite a decline in mortgage rates and a pickup in income. The decline in mortgage rates in conjunction with the increase in employment and wages should result in an upturn in activity as we move through summer.
Last Week's Market

The Weeks Ahead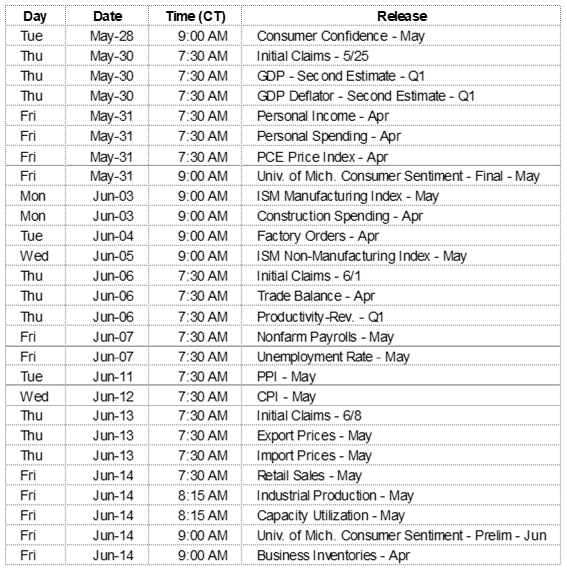 The information provided is obtained from sources believed to be reliable. Forecasts cannot be guaranteed. Past performance is not a guarantee of future results.