In the United States, there is not a single Treasury bond which currently pays more than 1.96%.
The dividend yield on the S&P 500 currently exceeds the yield on the 30-year Treasury bond and those dividends will increase over time.
The recent decline in interest rates means an increase in bond prices. In the month of August, the Barclay's Aggregate Bond Index generated a positive total return of 2.59% while the NASDAQ Composite index was negative by 2.46%.
For more thoughts on the recent decline in interest rates, check out Dan Brogren's piece on our website, Falling Interest Rates. We can help you prioritize your financial goals and manage your portfolio through changing economic environments to achieve the results you need.
On the One Hand
Durable goods orders rose 2.1% in July. June orders were revised downward by 0.2% to a 1.8% increase.
Initial unemployment claims for the week rose 4,000 to 215,000 and the four-week moving average declined by 500 to 214,500, marking the 234th straight week of claims below 300,000. Continuing claims rose 22,000 to 1.698 million.
Personal income increased 0.1% in July and was up 4.6% in the past year. Personal consumption rose 0.6% in July and spending was up 4.1% for the year. The PCE deflator (consumer prices) rose 0.2% in July and is up 1.4% versus a year ago.
On the Other Hand
The second estimate for Q2 GDP was revised downward to an annualized real growth rate of 2.0% from the 2.1% reported in the advanced estimate. The GDP Deflator was unrevised at 2.4%.
Pending home sales fell 2.5% in July month to month and were 0.3% lower compared with July 2018, as reported by the National Association of Realtors.
The final reading for the University of Michigan's Index of Consumer Sentiment for August was revised downward by 2.3 to 89.8 compared to the final reading for July of 98.4.
All Else Being Equal
The FOMC meets in two weeks to consider its fed funds rate which will be announced on Wednesday the 19th. The expectation is for a cut of one-quarter of one percent. The bond market will likely lead rather than follow.
Last Week's Market

The Week Ahead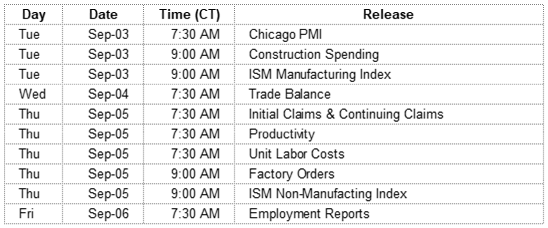 The information provided is obtained from sources believed to be reliable. Forecasts cannot be guaranteed. Past performance is not a guarantee of future results.