Planning for accumulation is the initial stage of all but a few financial plans. This beginning phase in the decades-long process of accumulating wealth to provide for educational needs, housing, retirement and family support is a decades-long process. Accumulation strategies are also the basis for most personal finance writing.
The distribution phase of a financial plan, however, is also a multi-decade process and requires as much or more planning and expertise. An efficient plan of distribution is critical and one of the variables at the top of the list of inputs is the ever-changing tax code.
We have written before about a distribution strategy which surprisingly, remains underutilized. The most recent change in the tax code increased the standard deduction to a level at which the itemization of deductions, including the charitable deduction, is no longer advantageous. There is, however, a way for some taxpayers to continue to receive a significant tax benefit from their donations to tax-exempt organizations and this is by utilizing Qualified Charitable Distributions from an IRA. Dianne Allison's piece Philanthropy and Your IRA describes the requirement and resulting benefits of qualified charitable distributions from an IRA very well.
On the One Hand
Industrial production was up 0.6% in August, rebounding nicely from July's 0.1% decline. Capacity utilization picked up to 77.9% from the prior month's 77.5%.
Following three months of declines, housing starts rose sharply in August, rising 12.3% in August to a 1.364 million annual rate. Starts are up 6.6% versus a year ago.
Building permits rose 7.7% to 1.419 million in August.
Continuing well under the 300,000 level, initial unemployment claims increased by 2,000 to 208,000. The four-week moving average for initial claims declined by 750 to 212,500. Continuing claims dropped 13,000 to 1.661 million.
Existing home sales rose 1.3% in August to a seasonally adjusted annual rate of 5.49 million. Total sales were up 2.6% compared to the same period a year ago.
On the Other Hand
The Leading Economic Indicators were unchanged in August following a downwardly revised 0.4% increase, from 0.5%, in July.
All Else Being Equal
The Fed lowered its target fed funds rate range by one-quarter percent to 1.75% – 2.00% and in its statement, did not reduce expectations for an additional rate cut later in the year.
The Atlanta Fed staff's GDPNow estimate for real current quarter growth ticked 0.1% higher to 1.9%.
Last Week's Market

The Week Ahead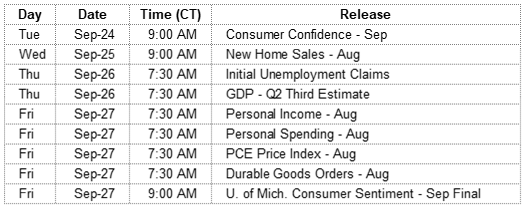 The information provided is obtained from sources believed to be reliable. Forecasts cannot be guaranteed. Past performance is not a guarantee of future results.