Last Friday's jobs report was a mixed bag of information. While 145,000 new jobs were added and the unemployment rate remained at 3.5%, wage growth was tepid in December to cap off a year of only moderate wage growth. This information, coupled with news that the Senate would receive the articles of impeachment this week, culled what was otherwise a strong week for stocks. The Dow passed 29000 earlier last week only to pull back by week's end. In any case, most of the indexes listed here posted gains last week, except for the small caps of the Russell 2000, which has gotten off to a relatively slow start in 2020. Conversely, the tech-heavy Nasdaq continues to post strong returns, climbing 1.75% last week and 2.30% ahead of its 2019 closing value.
Oil prices plummeted last week, closing at $59.14 per barrel by late Friday afternoon, down from the prior week's price of $63.05. The price of gold (COMEX) rose higher again last week, closing at $1,561.60 by late Friday afternoon, up from the prior week's price of $1,553.30. The national average retail regular gasoline price was $2.578 per gallon on January 6, 2020, $0.007 more than the prior week's price and $0.341 more than a year ago.
Last Week's Economic News
There were 5.8 million unemployed persons in December, and the unemployment rate remained at 3.5%. A year earlier, the unemployment rate was 3.9% based on 6.3 million unemployed persons. The labor force participation rate was unchanged at 63.2% in December. The employment-population ratio was 61.0% for the fourth consecutive month but was up by 0.4 percentage point over the year. There were 145,000 new jobs added in December. Notable job gains occurred in retail trade and health care, while mining lost jobs. In 2019, employment rose by 2.1 million, down from a gain of 2.7 million in 2018. The average workweek was unchanged at 34.3 hours in December. Average hourly earnings rose by $0.03 to $28.32 last month. Over the last 12 months, average hourly earnings have increased by 2.9%.
In the latest report from the Census Bureau, the goods and services trade deficit for November was $43.1 billion, down $3.9 billion from October's deficit of $46.9 billion, revised. November exports were $208.6 billion, $1.4 billion more than October exports. November imports were $251.7 billion, $2.5 billion less than October imports. Year-to-date, the goods and services deficit decreased $3.9 billion, or 0.7%, from the same period in 2018. Exports decreased less than $0.1 billion, or less than 0.1%. Imports decreased $3.9 billion, or 0.1%.
According to the latest Non-Manufacturing ISM® Report On Business®, the December non-manufacturing index was 55%, 1.1 percentage points higher than the November reading. In the services sector, survey respondents saw an uptick in prices and business activity. However, new orders and employment dropped in December from the prior month.
For the week ended January 4, there were 214,000 claims for unemployment insurance, a decrease of 9,000 from the previous week's level, which was revised up by 1,000. According to the Department of Labor, the advance rate for insured unemployment claims remained at 1.2% for the week ended December 28. The advance number of those receiving unemployment insurance benefits during the week ended December 28 was 1,803,000, an increase of 75,000 from the prior week's level.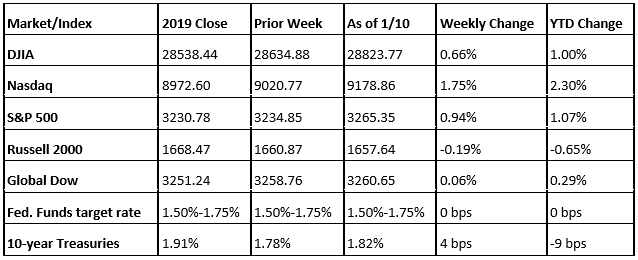 Chart reflects price changes, not total return. Because it does not include dividends or splits, it should not be used to benchmark performance of specific investments.
Eye on the Week Ahead
This is a busy week for market-influencing economic reports, starting with the Treasury budget report for December. The government deficit has been expanding, reaching close to $1 trillion. The latest information on inflationary trends is also out with reports on consumer and producer prices. The Federal Reserve's report on industrial production is also out at the end of the week. If surveys of purchasing managers are any indication, the Fed's report on industrial production will show continued weakness in December.
The Week Ahead

The information provided is obtained from sources believed to be reliable. Forecasts cannot be guaranteed. Past performance is not a guarantee of future results.