Medicare premiums, deductibles, and coinsurance amounts change annually. Here's a look at some of the costs that will apply in 2020 if you're enrolled in Original Medicare Part A and Part B.

Medicare Part B premiums
According to the Centers for Medicare & Medicaid Services (CMS), most people with Medicare who receive Social Security benefits will pay the standard monthly Part B premium of $144.60 in 2020. However, if your premiums are deducted from your Social Security benefits, and the cost-of-living increase in your benefit payments for 2020 will not be enough to cover the Medicare Part B increase, then you may pay less than the standard Part B premium.

People with higher incomes may pay more than the standard premium. If your modified adjusted gross income (MAGI) as reported on your 2018 federal income tax return is above a certain amount, you'll pay the standard premium amount and an Income Related Monthly Adjustment Amount (IRMAA), which is an extra charge added to your premium, as shown in the following table.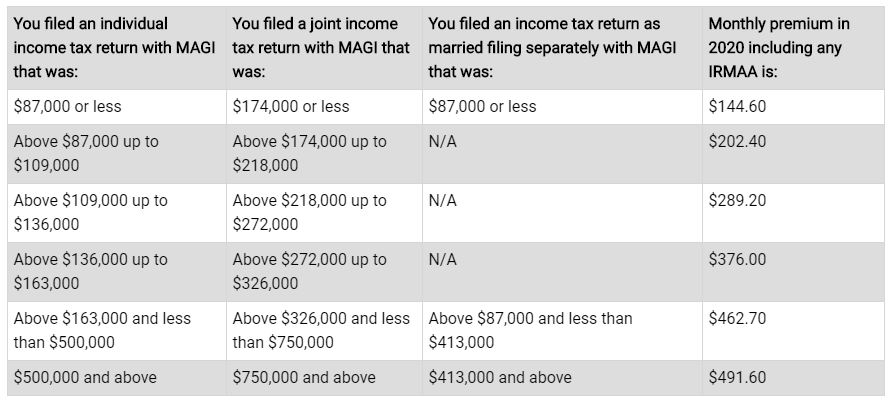 Other Medicare costs
The following out-of-pocket costs for Original Medicare Part A and Part B apply in 2020:

Part A deductible for inpatient hospitalization: $1,408 per benefit period
Part A premium for those who need to buy coverage: up to $458 per month (most people don't pay a premium for Medicare Part A)
Part A coinsurance: $352 per day for days 61 through 90, and $704 per "lifetime reserve day" after day 90 (up to a 60-day lifetime maximum)
Part B annual deductible: $198
Skilled nursing facility coinsurance: $176 for days 21 through 100 (for each benefit period)
For more information on costs and benefits related to Social Security and Medicare, visit ssa.gov and medicare.gov.
At The Trust Company of Kansas, we help people. We promise to minimize the burden of wealth management and bestow the freedom to enjoy everything else. The officers at The Trust Company of Kansas are always willing to discuss your financial goals with you and help you to create a plan that is well-aligned with your wishes. If you have a specific question about financial planning, please contact us at (800) 530-5254 or visit tckansas.com/contactus, and one of our Certified Trust and Financial Advisors will be happy to assist you.