From Warren Buffett's Letter to Shareholders in 2010:
Throughout my lifetime, politicians and pundits have constantly moaned about terrifying problems facing America. Yet our citizens now live an astonishing six times better than when I was born. The prophets of doom have overlooked the all-important factor that is certain: Human potential is far from exhausted, and the American system for unleashing that potential – a system that has worked wonders for over two centuries despite frequent interruptions for recessions and even a Civil War – remains alive and effective.
We are not natively smarter than we were when our country was founded nor do we work harder. But look around you and see a world beyond the dreams of any colonial citizen. Now, as in 1776, 1861, 1932 and 1941, America's best days lie ahead.
What We Are Watching So You Don't Have To
On The One Hand
The trade deficit narrowed to $44.3 billion in December from $45.7 billion in November. Exports increased $5.0 billion from November and imports were $3.6 billion higher.
Consumer credit expanded at a lower rate. Total outstanding consumer credit increased by $14.2 billion in December following $25.2 billion in November.
The labor market remains tight. Initial jobless claims decreased 12,000 to 234,000. Continuing claims increased 15,000 to 2.078 million.
On The Other Hand
Consumer sentiment missed expectations and faded slightly in early February. The preliminary University of Michigan Consumer Sentiment Index reading for February was 95.7, down from the final January reading of 98.5. The report noted a sharp partisan divide in the survey responses. Ultimately, actual spending is what will drive the economy and the index did remain at a very high level.
All Else Being Equal
Fed watchers will be tuned into Fed Chair Janet Yellen's semi-annual Congressional testimony on Tuesday and Wednesday.
Last Week's Market

The Week Ahead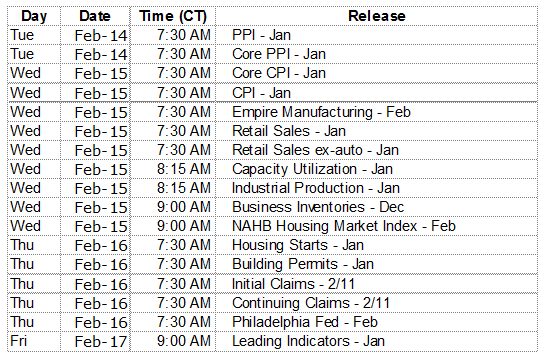 The information provided is obtained from sources believed to be reliable. Forecasts cannot be guaranteed. Past performance is not a guarantee of future results.