An important deadline is approaching for those who turned age 70-1/2 in 2016 and elected to postpone taking their first required minimum distribution (RMD) in 2016. Those deferred, first year distributions must be taken by April 1, 2017.  Since April 1 is a Saturday this year, make sure you take your distributions on or before Friday, March 31st. Do not forget, as failure to take this withdrawal, or any other RMD, triggers one of the stiffest penalties levied by the IRS, 50% of the withdrawal amount.
What We Are Watching So You Don't Have To
On The One Hand
The Producer Price Index (PPI) for February increased 0.30%. The annual rate through the month was 2.2%, the highest annual PPI rate since July 2013.
The Consumer Price Index (CPI) increased 0.1% in February. The CPI is up 2.7% from a year ago.
Retail sales increased 0.1% in February and sales excluding autos increased 0.2%. The latest report also revised the January retail sales upward from 0.4% to 0.6% and January sales excluding autos up from 0.8% to 1.2%. Retail sales are now up 5.7% over the past year.
Business inventories increased 0.3% in January following a 0.4% increase in December. Sales increased 0.2% in January after a 2.1% increase in December. The inventory-to-sales ratio, 1.35 and unchanged from January, remains at relatively low levels.
Housing starts were up 3.0% in February to a seasonally adjusted annual rate of 1.288 million. Single family starts rose 6.5%. Building permits decreased 6.2% to a seasonally adjusted annual rate of 1.213 million. Single family permits rose 3.1%.
Initial jobless claims declined by 2,000, for the week ending March 11, to 241,000. Continuing claims dropped by 30,000 to 2.030 million.
On The Other Hand
The Empire State index, a measure of manufacturing sentiment in New York, declined to +16.4 in March from +18.7 in February. The last two month's index levels have been the best readings since 2014, signaling continued improvement in the manufacturing sector.
The Philadelphia Fed Index declined less than expected to 32.8 in March from its reading of 43.3 in February, a 33 year high. The March reading remains comfortably above 0, the dividing line between expansion and contraction.
All Else Being Equal
It was a positive week for economic data. Even the two declining indexes noted above were not very negative. The one month declines in both, the Empire State index and the Philadelphia Fed index left those indexes well above recent lows and comfortably above readings which would signal an end of the expansion.
Last Week's Market

The Week Ahead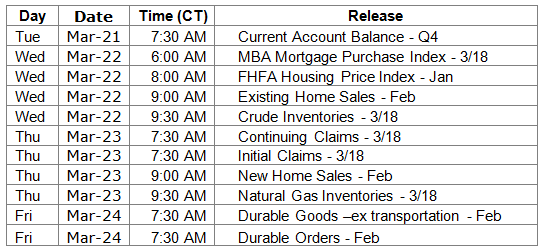 The information provided is obtained from sources believed to be reliable. Forecasts cannot be guaranteed. Past performance is not a guarantee of future results.