Are you or is a loved one getting tired of spending the time and energy it takes to keep up with what seems to be the constant changes in life? Coping with the changes in markets and rates of return, income tax rates and reporting, retirement plan distribution rules, health care options, etc. can be time consuming if not overwhelming.
There is expert, unbiased help available. Start with the short question and answer, ASK A TRUST OFFICER: LIVING TRUSTS, then contact Pam Ryser or any of the professionals at The Trust Company of Kansas for answers to your specific questions.
TCK Staff Directory
TCK Locations
What We Are Watching So You Don't Have To
On The One Hand
Initial claims for the week ending March 18 increased 15,000 to 258,000. Continuing claims for the week ending March 11, though, decreased 39,000 to 2.000 million.
New home sales increased 6.1% in the month of February and were up 12.8% from the previous year. The median price of new homes sold was $296,200, down 4.9% from a year ago.
Durable goods orders increased 1.7% in February and January orders were revised upward to 2.3% from the previously reported 1.8% increase. This puts orders up 5.0% from a year ago.
On The Other Hand
Existing home sales for February declined 3.7% from January. The median existing single-family home price rose 7.6% year-over-year to $229,900. Total housing inventory at the end of February was 1.75 million homes for sale, 6.4% lower than the same period a year ago and demand strong enough that 42% of properties sold in February were on the market less than a month.
All Else Being Equal
Confidence may finally be spilling over from consumers to companies. Sentiment surveys in the previous weeks hinted this might be the case. This week's durable goods orders report is hard data which supports the attitudes expressed in the surveys. One or a few month's positive data does not make a trend but it looks like a cautious business expansion may be developing.
Last Week's Market

The Week Ahead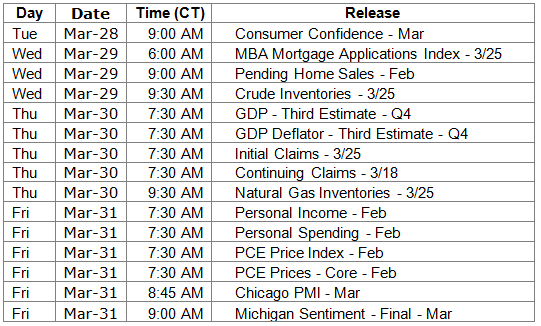 The information provided is obtained from sources believed to be reliable. Forecasts cannot be guaranteed. Past performance is not a guarantee of future results.