The president released the core goals of his tax plan last week. The outline was for the most part what had been expected. One pleasant surprise was the absence of the border adjustment tax which would have punished U.S. consumers. Many details remain to be fleshed out by Congress. At present, there are not enough details to do any serious tax planning. We will be monitoring the plan as it moves through the legislative process. As soon as there is clarity, we will be in touch with you to make sure you take advantage of any benefits which may result.
On The One Hand
1. New home sales were up 5.8% to a seasonally adjusted annual rate of 621,000. The median sales price of a new home increased 1.2% to $315,100 while the average sales price increased 5.6% to $388,200.
2. The Conference Board's Consumer Confidence Index declined to 120.3 in April from a downwardly revised 124.9. The index remains in positive territory.
3. Durable goods orders for March fell short of expectations increasing 0.7% but February orders were revised upward to +2.3% from +1.7%. Business spending is up 2.1% for the year.
4. Initial unemployment claims remain well under 300,000 with an increase of 14,000 to 257,000 for the week ending April 22. Continuing claims increased by 10,000 to 1.988 million.
5. The Chicago Business PMI increased to 58.3 in April from 57.7 in March, its highest reading since January 2015.
On The Other Hand
1. The first estimate of Q1 GDP was a 0.7% seasonally adjusted annual rate. The GDP Price Index increased 2.3%. The growth in personal consumption expenditures (PCE) was the weakest in more than seven years, increasing just 0.3%.
2. The first quarter Employment Cost Index showed compensation costs increased 0.8% after a 0.5% increase for the fourth quarter.
All Else Being Equal
Confidence remains positive. This confidence is showing up in strengthening demand for new homes in spite of higher prices. Business spending is still relatively soft. The labor market is tight and employment costs are rising.
In spite of the weak initial Q1 GDP release, the Fed is likely to continue its course of Fed Funds rate increases and begin its long anticipated balance sheet reduction.
Last Week's Market

The Week Ahead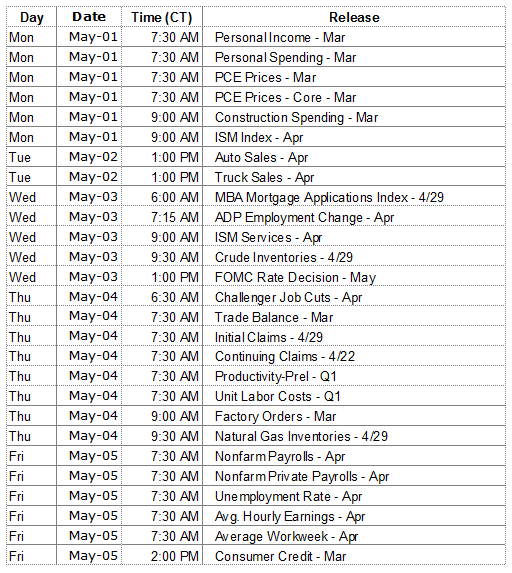 The information provided is obtained from sources believed to be reliable. Forecasts cannot be guaranteed. Past performance is not a guarantee of future results.