In spite of the already plentiful media commentary on Bitcoin, inquiries about the phenomenon continue to come in. Following is an abbreviated, nontechnical summary of our thoughts on the subject. In brief, if you are not already a regular user of online banking services and you do less than half of your Christmas shopping at online retailers, Bitcoin is not for you.
Bitcoin is a digital currency, sometimes called a cryptocurrency. It is software. No hardware is involved, meaning you cannot take delivery of coins or paper currency. You will not be able to fill your pockets with Bitcoins. Bitcoin is the oldest and largest of the twenty plus digital currencies currently available. These digital currencies are backed by nothing more than the full faith and credit of the internet but that is their appeal for many. If you're still interested, open your internet browser.
To purchase Bitcoins, use the internet to search for and navigate to one of the Bitcoin exchanges. You probably will not recognize any of the names and none of them are regulated like banks or brokers, also appealing to some. Your account will also not be insured by the FDIC. Once you have selected an exchange, set up an online wallet by providing all of your personal information, connect your wallet to your bank account, and you are ready to buy Bitcoin. What could go wrong?
The digital currency exchanges charge fees so make sure you understand the costs. There are currently a very limited number of merchants accepting Bitcoin. The Bitcoin in your wallet will be accessible for sale or exchange by you as long as you remember your password. As you can imagine, cryptocurrency exchanges and wallets are targets for hackers. Hacking thefts are in the hundreds of millions of dollars. Governments are beginning to take an interest in regulating and taxing digital currency transactions. Political decisions will affect the price of your new currency in unpredictable ways.
In time, the blockchain (a definition would require more space than is available) technology behind Bitcoin is bound to play an important role in finance and other areas. It is possible Bitcoin itself will become a widely accepted currency in the decades to come. Today, however, Bitcoin is a wildly speculative digital currency caught up in a greater fool mania.
On The One Hand
New home sales surprised on the upside by increasing 6.2% in October to a seasonally adjusted annual rate (SAAR) of 685,000, the highest SAAR since October 2007. The median sales price was 3.3% higher than year ago levels at $312,800 and the average sales price was 13.6% higher at $400,200.
Consumer confidence remained positive in November as was reported in the Conference Board's Consumer Confidence Index coming in at 129.5, up from 126.2 in October and at its highest level since November 2000.
Real Third Quarter GDP was revised upward by 0.01% to 3.3%.
Personal income increased 0.4% in October on a 0.3% increase in wages and salaries. Personal spending rose 0.3%, as expected.
Initial unemployment claims dropped 2,000 to 238,000. Continuing claims rose by 42,000 to 1.957 million.
Total construction spending increased 1.4% in the month of October. On an annual basis, construction spending was up 2.9%, with public construction spending up 1.8% and private construction spending up 3.2%.
On The Other Hand
The Chicago Purchasing Managers Index (PMI) declined to 63.9 in November from 66.2 in October.
The Institute for Supply Management (ISM) Manufacturing Index slipped to 58.2 in November from 58.7 in October. While lower last month, the index has held above 50, the dividing line between expansion and contraction, since August 2016.
All Else Being Equal
The Atlanta Fed's GDPNow forecast for real Q4 GDP rose a bit to 3.5% last week.
Last Week's Market

The Week Ahead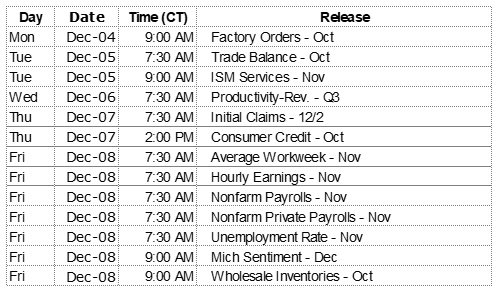 The information provided is obtained from sources believed to be reliable. Forecasts cannot be guaranteed. Past performance is not a guarantee of future results.