Think back to two years ago. Do you remember the 4.5% decline over the five trading days ending February 10, 2016? This decline added to what had already been an 8.8% fall in the S&P 500 which began the previous November. Do you remember the explanations provided for the 13% decline? Do you not recall the predictions for the market movement to come over the following weeks? Yeah, me neither.
The generally erroneous reasons given for the market movement in a day, weeks or months are of no consequence and quickly forgotten. The predictions for future short-term time periods which are based on those reasons are also of little concern to investors. As is the case with all news in our current 24/7 cable and internet culture the signal-to-noise ratio is very low. Investors must use filters to increase the signal or the factual, beneficial information relative to the noise which consists of useless guesswork.
On the One Hand
Initial unemployment claims declined by 19,000 to 234,000. The four-week moving average was up 4,500 to 224,750. Continuing claims were lower by 42,000 to 1.736 million.
The Labor Department announced the productivity of manufacturing workers increased at a 1.3% seasonally adjusted annual rate in the fourth quarter. A full productivity report was not released due to the lack of data resulting from the government shutdown.
On the Other Hand
Factory orders declined 0.6% in November following a 2.1% decline in October.
The ISM non-manufacturing index declined to 56.7 in January, down from an upwardly revised 58.0% in December. On a positive note, the index did remain comfortably in expansion territory, above 50.
All Else Being Equal
The trade report headline brought smiles to the faces of some when it showed a shrinkage in the trade deficit from $55.7 billion in October to a deficit of $43.9 billion in November. Unfortunately, this came as a result of a decline in total U.S. trade of $9 billion which included $1.3 billion coming from a decline in exports.
Last Week's Market

The Week Ahead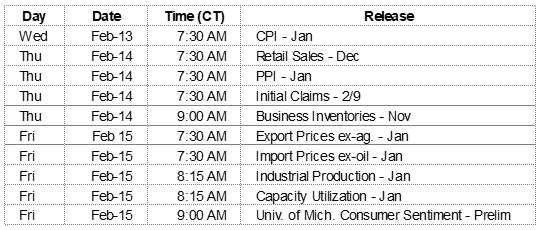 The information provided is obtained from sources believed to be reliable. Forecasts cannot be guaranteed. Past performance is not a guarantee of future results.