The recovery from last year's break down is complete. Stock prices moved higher last week with the S&P 500 closing at a new all-time high of 2,939.88 on Friday. At that point, the index was up 17.27% year to date and 25.04% from the Christmas Eve low.
Economic news continued to support the belief that the economy continues to expand and shows no sign of recession. Corporate quarterly earnings reports also demonstrate business in the U.S. remains generally healthy. The analysts we follow most closely are looking for the economy to continue to expand in the same manner it has over recent quarters. Stocks will, as always, be volatile. Do not allow yourself to get overconfident with news of hot IPOs and rallies. Nor should you get frightened by the sell offs which will surely come. Stay focused on your personal goals.
On the One Hand
New home sales rose 4.5% in March to a seasonally adjusted annual rate of 692,000, the best pace since November 2017. Year over year, sales were 3.0% higher. While the average of new homes sold rose 1.8%, the median sales price was 9.8% lower than year ago levels.
Business spending improved in March as measured by durable goods orders which rose 2.7%.
The advance estimate for first quarter 2019 GDP growth was 3.2%. Inflation as measured by the GDP deflator was up just 0.9% following last quarter's 1.7% rate.
The final value of the University of Michigan Index of Consumer Sentiment for April was reported at 97.2 up from the preliminary level of 96.9. While lower than the final reading for March, it remained in line with the average over the past two years.
On the Other Hand
The continuing lack of supply of existing homes at acceptable prices was evident in the 4.9% decline of existing home sales in March. Compared to March 2018, sales were 5.4 % lower.
Initial unemployment claims jumped to 230,000, an increase of 37,000 from the previous week's level. The four-week moving average dipped 25,000 to 1.688 million. Continuing claims rose 1,000 to 1.655 million.
All Else Being Equal
The FOMC meets this week. No interest rate changes are anticipated.
Last Week's Market

The Week Ahead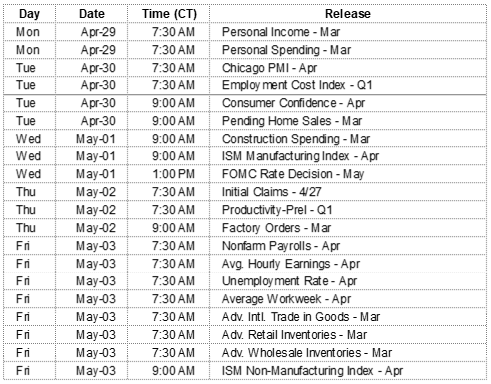 The information provided is obtained from sources believed to be reliable. Forecasts cannot be guaranteed. Past performance is not a guarantee of future results.