Accumulating wealth for retirement involves more than investment returns. Much of one's good work in this area can be lost if the account owner does not understand rules for retirement accounts spelled out in the tax code. The penalties are steep.
Chris English begins an explanation of these concerns in his piece, Q & A : IRA ROLLOVERS. Do not hesitate to call if your question is not among his featured topics.
 What We Are Watching So You Don't Have To
On The One Hand
For the 99th week, initial claims were reported below 300,000 at 259,000, an increase of 22,000. Continuing claims rose 41,000 to 2.100 million.
The Leading Economic Index (LEI) increased for the fourth month in a row. The December LEI rose 0.4%. The Coincident Economic Index confirmed with an increase of 0.3% in December.
The University of Michigan's Index of Consumer Sentiment was reported at 98.5. These survey results indicate consumers are the most optimistic they have been since 2005.
On The Other Hand
Existing home sales declined 2.8% in December to a seasonally adjusted annual rate of 5.49 million. Total 2016 existing home sales wound up at 5.45 million, the highest since 2006. The median sales price of $232,200 was 4% higher than the year ago level. At current sales rates, inventory is the lowest since 2005 and stands at a 3.6 month supply. First time home buyers were responsible for 32% of the November and December activity. Low inventory, higher prices and higher mortgage rates have become headwinds which need to be overcome.
New home sales in December declined 10.4% from November, to a seasonally adjusted annual rate of 536,000. As the saying goes, the things which matter in real estate are location, location, location and this was apparent with sales in the Northeast rising 48.4% while the Midwest, South and West offset this gain by declining 41.0%, 12.6% and 1.3% respectively. An estimated 563,000 new homes were sold in 2016, 12.2% more than in 2015.
The advance estimate for GPD in the fourth quarter was reported to be +1.9% following the increase of 3.5% for the third quarter. The first estimate for full year, 2016 real GDP growth is 1.6% compared to 2.6% in 2015. The Price Deflator for Q4 was 2.1%.
Orders for durable goods declined 0.4% in December and November was downwardly revised to a 4.8% decline from the originally reported 4.6% decline. An encouraging data point in the report was nondefense orders increased 0.8% in December and 1.5% in November. Another positive data point beneath the headline can be found by stripping out orders in the volatile transportation sector. Orders outside the transportation sector accelerated at an annual rate of 10.7% based on the past three months versus a 3.5% gain in the previous year.
All Else Being Equal
Hopes of a faster GDP growth were dimmed by last week's Q4 report. The economy's shallow uptrend continues. Consumer confidence continues to improve but businesses continue to remain cautious.
Central banks are also cautious. Although the Fed signaled higher rates as the year progresses, Fed watchers do not expect an increase will come from this week's FOMC meeting.
Last Week's Market

The Week Ahead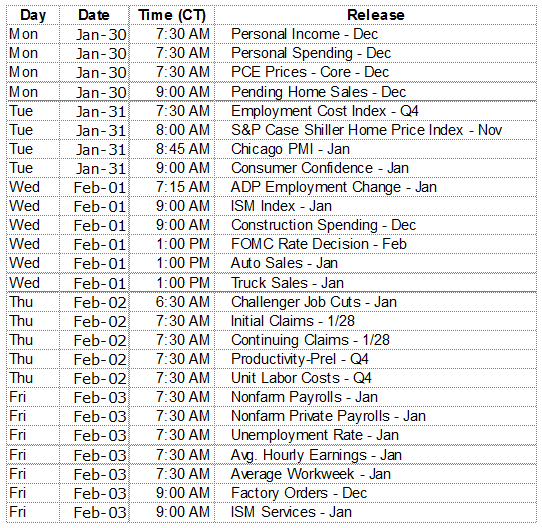 The information provided is obtained from sources believed to be reliable. Forecasts cannot be guaranteed. Past performance is not a guarantee of future results.